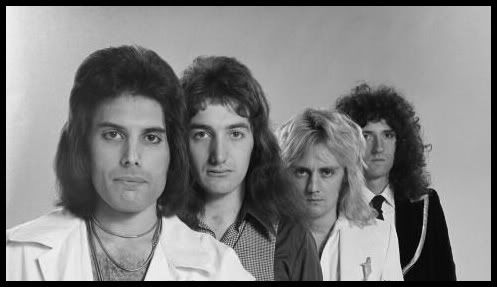 El blog se satura con tanto material de Queen+PR. Conviene entonces darse un respiro e irnos al auténtico oasis queenero, volviendo a postear algo del Queen que nunca debió terminar.
24 de diciembre de 1975, Londres. Terminaba Killer Queen y en un lapso menor a los 3 minutos se venían dos extractos de dos grandes temas de la Reina: The March Of The Black Queen y Bohemian Rhapsody. Perfecta fusión para dos canciones sublimes de autoría de Bulsara. Este video fue subido por hernansnow a Youtube:
[youtube=http://www.youtube.com/watch?v=PnP7tOftEaM&hl=es&fs=1]
Lo último de Queen + PR: acaban de tocar en Berlín. Pasado mañana lo harán en Amberes (en inglés, Antwerpen), Bélgica. Si bien en las paradas anteriores se usó One Vision casi como introducción, en Alemania OV fue sacado y se reemplazó por Surf's Up…School's Out!, el penúltimo track de The Cosmos Rocks.
En la lista de álbumes destacados del Radio 1 de la BBC, y en su semana debut, TCR está en una aceptable posición #5. Lidera el ránking, por segunda semana consecutiva, Death Magnetic, de Metallica. Y en el ránking de singles rockeros, también del Radio 1 de la BBC, C-Lebrity ingresó al ránking con todo: en su semana de ingreso al rank ya está en el top one. Detalles de los ránkings, a continuación:
Discos
1. Metallica – Death Magnetic
2. Neyo – Year Of The Gentleman
3. Rihanna – Good Girl Gone Bad
4. Duffy – Rockferry
5. Queen + Paul Rodgers – The Cosmos Rocks
6. Glasvegas – Glasvegas
7. The Streets – Everything Is Borrowed
8. Elbow – The Seldom Seen Kid
9. The Script – The Script
10. The Verve – Forth
Singles de Rock
1. Queen + Paul Rodgers – C-lebrity
2. Kid Rock – All Summer Long
3. Nickelback – Rockstar
4. Black Tide – Shout
5. Nickelback – Photograph
6. Coheed & Cambria – The Suffering
7. Bullet For My Valentine – Hand Of Blood
8. Avenged Sevenfold – Dear God
9. Children Of Bodom – Blooddrunk
10. Nightwish – Nemo
EDIT: Blackthorne (gracias compañero) me pasó EL LINK que nos ofrece las alternativas todas de entradas y ubicaciones para Q+PR en Argentina. Abajo, una foto alusiva a ello: