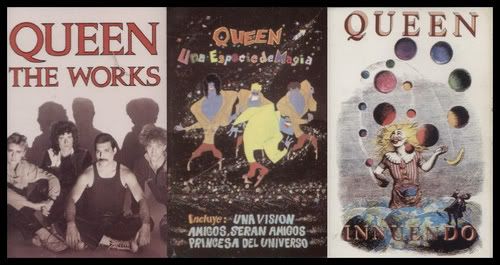 Un post elementalmente freak, por donde se le mire.
Primero, pongan atención en la foto que encabeza esta entrada. Son tres cassettes de Queen, en sus versiones en Chile. Como podrán notar, hay un grosero error en el cassette del medio: Una Especie de Magia, o A Kind Of Magic. Es un error grosero lo que se hizo con la traducción de Princes Of The Universe. El yerro fue Princesa del Universo. Atroz, el colmo. Si alguien quiere confirmarlo, vea la siguiente foto: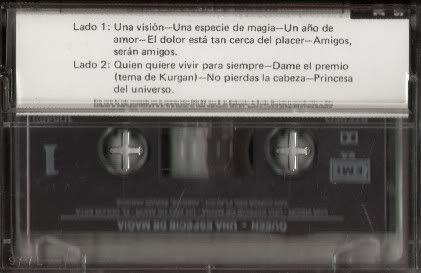 Ya, ahora me voy al asunto del título. Por ahí vi este video que por lo menos a mí me gustó. Menos explicaciones, sólo veanlo 😉
[youtube=http://www.youtube.com/watch?v=4RvAwBMrpd8&hl=es&fs=1]
Si quieren comentar el video…. POR ACÁ
Y este post también me sirve de agravante para postear más de la actualidad de Queen. O de Queen + PR:
En la página de Brian May, el chascón escribió esto:
MORE APOLOGIES!

[The list below is simply countries (and UK towns) from where people have written to Brian about no dates announced in those places in current 2008 list of concerts, and asking QPR to tour there.]

OK – I may as well get it over with now …. I sincerely apologise to:

Argentina
Australia
The Baltics
Belfast
Canada
Chile
Croatia
Denmark
Doncaster
Dublin
Finland
Greece
Ipswich
Japan
Manchester
Newcastle
New Zealand
North America – various States
Norway
Portugal
Romania
Sardinia
Sheffield
Singapore
Sweden
Ukraine

and the Staines Massif ….

and anyone else who feels neglected … for not Queen + PR NOT announcing a tour date near enough to your arm-chairs. You know … I didn't realise we would be upsetting so many people … maybe it's best if we forget the whole thing …. ! 😉

Soon !!

love
Bri
Y como siempre hay que dar las fuentes, esto lo pueden ver en ESTE LINK. Los que saben inglés, entenderán lo que quiere decir este escrito.
Ahora es hora de hablar algo del disco. Por más que algunas fuentes citen que el nuevo disco de Queen + PR se llame "The Cosmos Rocks", en directa alusión al nombre de la gira de Brian, Roger y Paul en continente europeo, esto puede prestar a confusiones. Al parecer, el nombre del disco AÚN NO está definido.
Ya hay algunos datos del nuevo disco. Como ya sabemos, en septiembre se lanza el álbum, que ya tiene algunos temas confirmados: Say It's Not True y C-Lebrity; esta última canción se dará a conocer el día 4 de abril. Lo otro confirmado es que en el disco hay contemplado, sí o sí, un cover. ¿Cuál?. No lo sé. Un ejemplo "podría" ser Red House, de Jimi Hendrix. Y otras tres canciones aún NO confirmadas son: Take Love, Warboys (A Prayer For Peace), ambas de autoría de Paul Rodgers, y The Call. Obviamente, lo NO confirmado es a modo de rumor.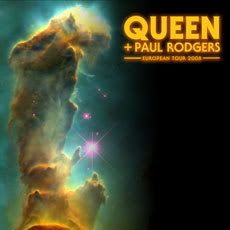 Si alguien tiene dudas de qué es el fondo de la foto de arriba (de la gira de Queen + PR) en Europa, puede pasar POR AQUÍ 😉
Y si quieren ver un link realmente ÚTIL, vayan POR ACÁ.